All the very latest from Lyfthaus
Design Freedom
The two hand drawn sketches were presented to our creative team by the lead architect at our first meeting.  The visual concept and the site limitations were clear, it was up to us to translate this into a compliant platform lift that met the architects (and clients) creative vision.
Working in a heritage property of this grandeur and complexity is never easy but our experience within this type of historic environment is unsurpassed – as is our knowledge of tailor made open aspect platform lifts.
The results are stunning.  A juxtaposition between a modern glazed platform lift with bridging link and its truly amazing backdrop.
Raised in Cambridge
Technology and creativity are the bedrock on which Lyfthaus has been built and there's no finer location to reinforce this ethos than Cambridge. The Lyfthaus Technology Centre is located close to Cambridge in Steeple Bumpstead.  Here you will find our creative team, specifying team, engineers, technicians and support team.  Our lifts are designed and manufactured at this single, purpose built location.
When building tailor made products its important to be close to our principle marketplace to survey sites and get a true understanding of what's important to our clients. We also complete all R&D and testing here, this included our new ICE Collection that has been launched recently despite the challenges of Covid.
Let's Get Creative
We work with the finest architects in Britain with all types and styles of built environment.  We asked 20 of our top architectural clients what was the No. 1 reason they chose lyfthaus.  The compelling answer was our bespoke capability. This should not be a surprise as its also a very important factor for our team who are tailor made specialists with many years experience.
Lyfthaus have built a team of creative people with backgrounds in architecture, construction, engineering, product development, project management and creative design.
Together we make the most beautiful spaces beautifully accessible.
Heavy Load
One of the many advantages of using a super stable twin cylinder scissor mechanism as our principle method of elevation is that it also has a mammoth 2000Kg capacity.
Whilst compliance dictates that 500Kg should be the maximum operating capacity for special applications such as bariatric use or for dual DDA and goods requirements we can include the option of a 1000Kg lifting capacity.
A breath of fresh air
Increasingly architects are asking us to implement Covid protection  measure on our platform lifts.  One of the advantages of a Lyfthaus lift is that most are open aspect, there are no enclosed spaces so making space is easy – the air you breath is always as clean and fresh as the air in the surrounding environment. 
In addition to the benefits of open aspect we can also fit virus killing bronze, brass and copper push stations and surfaces.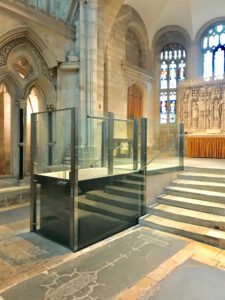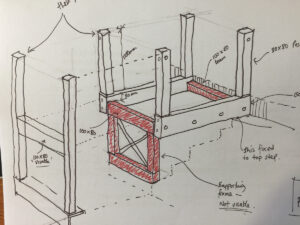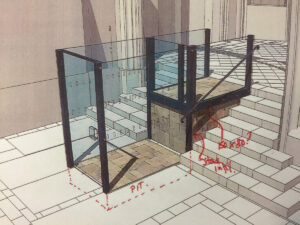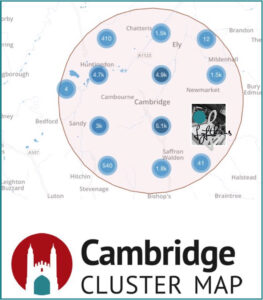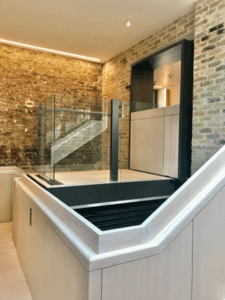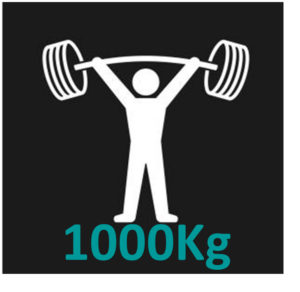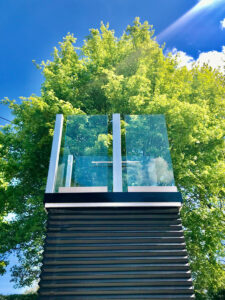 Recent Installations
Grade 1 Listed Church Kensington
 1800 x 1200mm platform
 2950mm travel
 500mm pit depth
 50mm platform tray
 500Kg (2000Kg) capacity
 Metallic bronze PPC
 Through car
 Staggered patchwork shaft
 Vertical rib shaft interior
 Open aspect upper level
Another unique platform lift designed to suit the very specific requirements of this grade 1 ecclesiastical heritage property. The shaft features a bronze patchwork decorative design using staggered tiles of differing sizes to great effect. Full height glass doors highlight the scissor mechanism beyond and draw natural light from above. The sequential vertical steel ribs within the shaft exaggerate the height which reflects the grandeur of the vast nave to which you are transported. This entire lift including the triple scissor mechanism was delivered in manageable sized component parts and then reassembled in the basement. The results are stunning.
Mixed Use Reception
 1450 x 1200mm platform
 800mm travel
 270mm pit depth
 50mm platform tray
 500Kg (2000Kg) capacity
 RAL9005/stainless steel finish
 Through car
 Matt black bellows
 Static perimeter barriers in frameless glass
Many of our clients spend millions of pounds on the development and  redevelopment of prestigious properties so it's vital that every element of the project meets their exacting standards of style, practicality, reliability, fit and finish. They are  demanding clients who expect the very best in every respect. Our team is well versed in working with the most discerning clientele and we ensure that we exceed every expectation. This installation was no exception. Stone tiles are fitted within the platform tray, perimeter frameless glass panels
complement the frameless glass side barriers of the lift and it's gates and it has been expertly detailed to enhance the built environment.
Grade 1 Listed Property
 1800 x 1500mm platform
 2200mm travel
 410mm pit depth
 50mm platform tray
 500Kg (2000Kg) capacity
 RAL9005/brush stainless steel finish
 Through and adjacent car
 Heritage gates and balustrades
A very challenging installation within a very restricted site. This three stop, three entrance point lightwell lift features gates and balustrades that complement the original Victorian wrought ironworks perfectly. The lift is exceptionally discreet and dissolves into it's backdrop beautifully. This was an essential part of the planning consent due to the historic importance of this location which is often used for period television and film including Downton Abbey and the latest Wonder Woman movie.
Residential Lobby
 1450 x 1100mm platform
 480mm travel
 120mm pit depth
 20mm platform tray
 500Kg (2000Kg) capacity
 Metallic bronze pearlescent PPC finish with
stainless steel accents
 Through car
 CUBE model with static perimeter barriers
 Bronze push buttons
This beautiful CUBE model has already received coveted acclaim since it's installation a month ago. It has been colour coded to match all adjacent finishes perfectly including the on-trend Crittall entrance door and dividing screens. The carpeted platform raises within the perimeter enclosure which also secures the stair grab. The push buttons are also finished in an aged bronze metallic in a continuation of the theme and in contrast we have some stainless steel accents.