Bespoke Platform Lift – The Heritage Collection
Bespoke platform lift collection for cathedrals, castles, stately homes, abbeys, universities, theatres, grand residences, hotels, churches and blue plaque sites.  These are amongst the very many historic locations in which we have installed Lyfthaus Heritage Collection open aspect bespoke platform lifts.  The Heritage Collection is a concept rather than a fixed set of models, we dress the bespoke platform lift to complement your historic site.  Architects, planners and heritage specialists choose whether to contrast the style of the bespoke platform lift or match it with the surrounding architecture.  At Lyfthaus we can work with both.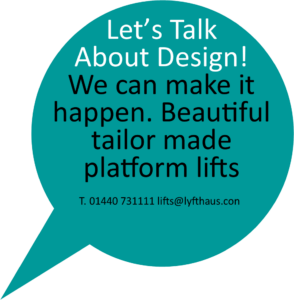 A contemporary bespoke platform lift is by far the most discreet choice which blurs the lines between the old and the new – staying honest to the original architecture.  But if a complementary custom platform lift is chosen no other manufacturer is better equipped to match the tailor-made platform lift to existing architecture and detailing.  This can be seen at Sir Christopher Wren's Chapter House beside St. Paul's Cathedral. Despite needing platform mounted buffer switch gear for safety compliance, Lyfthaus still managed to match the complete balustrade system with Sir Christopher's original design which included the cast finials.  Having removed an original finial Lyfthaus produced a cast so that new finials could be reproduced precisely in a traditional foundry in accordance with the circa 1712 originals.  The end result is beautiful and perfectly in keeping.
Lyfthaus bespoke platform lifts are available in a huge choice of beautifully crafted materials included timber, bronze, brass, cast replica materials, replica wrought iron, stone and steel finished in all RAL paint codes and metallic powder coats.
Whichever option is chosen it will be exquisitely engineered and provide high performance operation and reliability.
"Thank goodness. No more intimidating white plastic boxes!" This was one architect's response to seeing the Lyfthaus platform lift range for the first time and is a great demonstration of how different the Lyfthaus approach is. It's certainly the type of comment that has continued to inspire the designers at Lyfthaus who are regarded by many as the platform lift industry's foremost creative thinkers.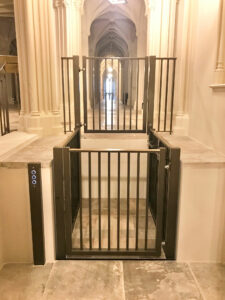 Lyfthaus have long recognised that architects and interior stylists need far more than an off-the-shelf solution for many environments, for historic properties' planning control officers and conservationists simply cannot allow a platform lift to be installed due to its visual impact. "It's like having a digital face on a grandfather clock" said one heritage expert talking about fixed range products. Regrettably, this results in restricted access for disabled visitors. Whilst Lyfthaus have an enviable company style which continually evolves with architectural trends and makes great use of different materials and finishes for their renowned contemporary collection, it is the bespoke nature of what they do that makes them truly unique. Let's get creative is a tag line Lyfthaus often use. Over 90% of the lifts they produce are tailor-made and incorporate designs that replicate accents found elsewhere in the property. Recently they forged cast aluminium railings to make exact replicas of a 16 th century iron gate that was made from smelted cannons salvaged from the Battle of Waterloo and installed in an English Castle. This is the level of detail Lyfthaus can provide for their exclusive clientele. Another client requested subterranean storage for their lift so it had zero impact when not in use. It appears from its underground hiding place at the touch of a button like a James Bond villain appearing from their secret lair. At another prestigious property bronze was the principal material with granite stone sets used to linethe platform to match the steps either side of the lift.
It is not enough to provide practical disabled access solutions that are purely functional. For architectural icons and A-list properties creative flair is essential. The platform lift must blend seamlessly with its built environment, it must be equal to its beautiful backdrop. Lyfthaus use handcrafted studio-based production methods at their factory near Cambridge, England.
Want to see more of our Heritage platform lift range?
If you would like to see a larger showcase of some of our projects, please feel free to visit our image gallery by clicking here.
Finally, if Lyfthaus do not have what your'e looking for be sure to check out our sister company Edmolift to see if they can help.