PLATFORM LIFTS LONDON
Platform Lifts London by Lyfthaus is a specialist division that works exclusively with our clients in the capital. Designing and installing bespoke premium platform lifts for clients all over London. Our specialist team of designers have expert knowledge. This ensures we create a platform lift solution that meets your architectural and styling requirements perfectly. We use designs, materials and finishes that complement your space.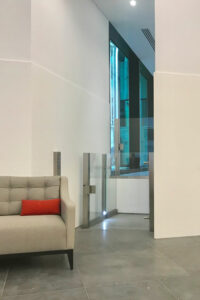 Our team work closely with architects and designers in develop platform lifts that enhance the build environment. Platform Lifts London by Lyfthaus can incorporate a custom made lift into all types of property from contemporary to heritage designs.  Furthermore, we will work in close liaison with your design team to make your beautiful space beautifully accessible by all.
At Lyfthaus we think outside the ugly white plastic box. Designing open aspect platform lifts that are a joy to look at and a joy to use. They don't distract the eye but dissolve into their environment.  We have installed these stunning platform lifts all over London and would be happy to provide the addresses of some showcase London installations.
You will find Lyfthaus in smart city offices including Canary Wharf, London and the City of London, fine retailers like Selfridges, London, five star hotels such as The Langham in The West End, London and heritage sites like Windsor Castle near London and the world famous Painted Hall, Greenwich, London.
WHY CHOOSE PLATFORM LIFTS LONDON?
Secondly, Lyfthaus is the largest designer and manufacturer of bespoke open aspect disabled access platform lifts working in the capital. In addition, Lyfthaus provides a complete range of platform lifts designed to suit all types of architectural style and location. This includes heritage, modern, residential, commercial and public access buildings across London. We have expertise in all business segments and property types. Working with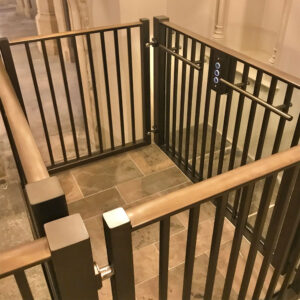 architects, trade partners, designers, access consultants, heritage specialists and planners. Furthermore, Lyfthaus have excellent knowledge of planning requirements and the specific challenges of working in London.  Our work includes the Royal Estate, cathedrals, churches and castles, many tourist attractions and security sensitive locations within London as well as prestigious private property, embassies and workplaces.
Moreover, we work hard to ensure your property provides acceptable levels of access without compromising the beauty of the space or people flow. Our designers will visit you and survey your site as many times as is necessary. This will ensure your platform lift meets your expectations perfectly.
To see more of our platform lifts please visit our gallery.
Please call 01440 731111 for more information.
Finally, if Lyfthaus do not have what you're looking for be sure to check out our sister company Edmolift.