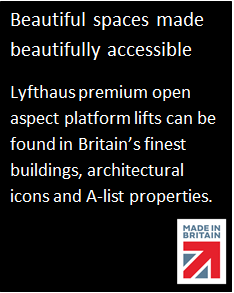 ABOUT US
Platform lifts UK manufactured by Lyfthaus have a well-proven team of experienced and innovative platform lift design engineers and creative thinkers who deal solely with the stylish and refined tastes of architectural clients. Placing their clients' needs at the heart of every design, the Lyfthaus objective is to exceed clients' expectations, delighting them by providing an individual and unique service that delivers an uncompromisingly high standard of design, fit and finish to every platform lift project.
Lyfthaus platform lift designs are never about us. Our clients are our focus. Our platform lift and wheelchair lift designers are not only passionate, skilled and experienced but are excellent listeners and communicators. We take the time to thoroughly understand our clients and what they want from each individual platform lift project. Only then do we start to think about the design itself. We are the platform lift and disabled lift industry's foremost creative designers providing architects with unparalleled freedom of choice and the source of the very best architecturally inspired platform lift design solutions. The Lyfthaus team develop trusted relationships that see clients returning time after time, year after year.
We combine stimulating new trends and finishes with a client's key requirements to guarantee a design that is exclusive, reflecting their own property style and requirements. Lyfthaus offers expert knowledge and advice, using tailor-made platform lift designs, hand-crafted studio based manufacturing methods and luxury finishes enabling clients to realise the full potential of their new bespoke disabled access platform lift.
This web site is intended to provide you with a taste of what we can provide.  Style, materials and finishes can all be tailored to ensure your platform lift enhances the built environment and improves the lives of its disabled users. We rise by lifting others!
Stunning contemporary designed premium, integrated platform lifts, tailor made to meet your exact architectural and interior style requirements including stainless steel, bronze, copper and brass. All RAL code paint finishes plus Interpon metallic PPC treatments.  Your own choice of platform finish can be laid in the platform lift tray such as stone, slate, tiles or timber – there are no weight restrictions.
Edmolift have been are the forefront of innovative materials handling and lifting equipment design and manufacturing for over 50 years including scissor lift tables, scissor lift platforms, loading bay lifts, manual handling solutions, ergonomic lifts and pallet lifts.
Today we are Europe's largest producers of scissor lift tables, loading bay scissor lifts, split level scissor lifts, pallet scissor lifts and associated products.  Our standard scissor lift table range is the largest available anywhere in the world with over 300 different lift table models.
We also design and manufacture bespoke scissor lift tables for special applications, our design team are based at our site near Cambridge where they work in close liaison with clients to ensure we supply exactly the right tailor made scissor lift table for your application. Edmolift provide lift tables into all types of industry and can build using special materials such as stainless steel for the food and pharmaceutical industries. We specialise in ergonomic, logistics, materials handling, manual handling and architectural applications.
Edmolift is the UK's most experienced and knowledgeable scissor lift table providers; our team have supplied over 15,000 scissor lift tables in Great Britain.  Benefit from this knowledge and contact Edmolift for your lift table requirements.