Step Lift
Step lift designed and manufactured by Lyfthaus are available to order now.  The all new ICE COLLECTION (Independent Compact Elevator) of low rise step lifts combine the Lyfthaus modernist and reductive design philosophy in a low profile, pit free step lift package.  Beautiful design and exquisite engineering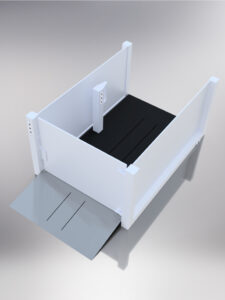 from the makers of the coveted Autograph Collection.  This is the first low rise step lift with a focus on style as well as substance.  A wheelchair step lift solution with a maximum raised height of 500mm for publicly accessible or workplace environments. However, this can be raised to 600mm in private locations in compliance with the Machinery Directive.
ICE – The New Premium Step Lift
ICE COLLECTION step lifts  include a shallow access ramp, frameless glass enclosure, LED colour changeable guide lights and a combination of high gloss and textured matt finishes with stainless steel accents.  In addition, an upper level gate is optional.  ICE is designed specifically for prestige property and discerning clientele. Moreover, ICE provides the only stylised alternative to step lifts that are intended to be purely functional.
The high gloss frameless glass enclosure is available in a large choice of finishes for instance, mirrored black and white, opaque patterns and with bespoke branding.
LED guide lighting system is remote controlled and is an effective method to set your mood of choice in any location. As well as improved safety in low light environments.  All colours are dimmable  and includes white and all primary colours.
Lyfthaus have worked with the lift industry, interior stylists and architects in the development of ICE COLLECTION step lifts.  You wanted a low rise step lift to enhance the built environment and to complement beautiful spaces. Our creative thinkers listened and ICE is the result.  A stunning solution for home, workplace and most controlled environments.
ICE COLLECTION low rise step lifts are super compact and very easy to install with a minimum of preparation required.  ICE step lifts are designed and manufactured at the Lyfthaus Technology Centre near Cambridge, England.
Finally, if you would like to see more images take a look at our image gallery and if Lyfthaus do not have what you're looking for be sure to check out our sister company Edmolift.